1996 Ford E350 Ambulance Crash Test
The annual ARC-CSI Crash Conference creates live, fully instrumented practical crash testing.  The conference has been taking place every year for the past 10 years. The ARC-CSI Crash Team has conducted multiple, fully instrumented crash tests that have been the basis for valuable insight into how various crash scenarios occur and have become the basis for a wealth of information on vehicle systems and operations.  ( www.arccsi.com)
From June 4 to 7, 2012, DCM Technical Services Inc. attended and participated in the ARC CSI Crash Conference in Las Vegas, Nevada.
One of the crash testing scenarios involved an ambulance being hit by a Grand Prix.  DCM used pictures (taken with great thanks by Daniel Vomho III of 4n6xprts) to create an accurately measured 3D image of the ambulance and the resulting. Below are the wire-frame and surfaced 3D renderings of the ambulance, completed with accurate measurements from the pictures provided.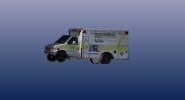 DCM is capable of providing accurately measured 3D renderings for use in many industries.  These renderings can be transferred to preferred software, such as CAD.  Please contact us if you have a project requiring DCM measurement solutions